Welcome to Lesson 14!

Announcements

Project Report 3 and Peer Evaluation 1 due one week from today

Midterm 2 Next Thursday


Midterm 2 review sheet posted

Last day to drop with a "W" is this Friday

You can check your current grade on Canvas
Please feel free to talk to me if you are considering dropping the class


Quiz 5 on Thursday

Graphs, Hash Tables, Binary Search Trees
Return Quiz 4


Last lab posted - on graphs!
Next Women in Computer Science club meeting this Wednesday at 12:30pm in the ATC 203 main lab
Review Activity

Is the graph connected or disconnected?

Is it directed or undirected?

What is the degree of vertex B in the graph?

Which vertices are considered adjacent to vertex A?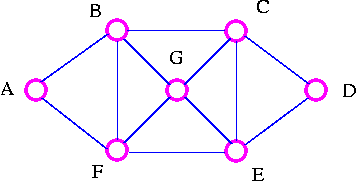 Write the hash function from the Hash Table Lab
Wrap Up Graph Fundamentals Lesson